Route of the British Berliner
The map shown below was provided for every passenger on the Berliner, and highlights the timings, events and various sites of interest along the route between Braunschweig and West Berlin.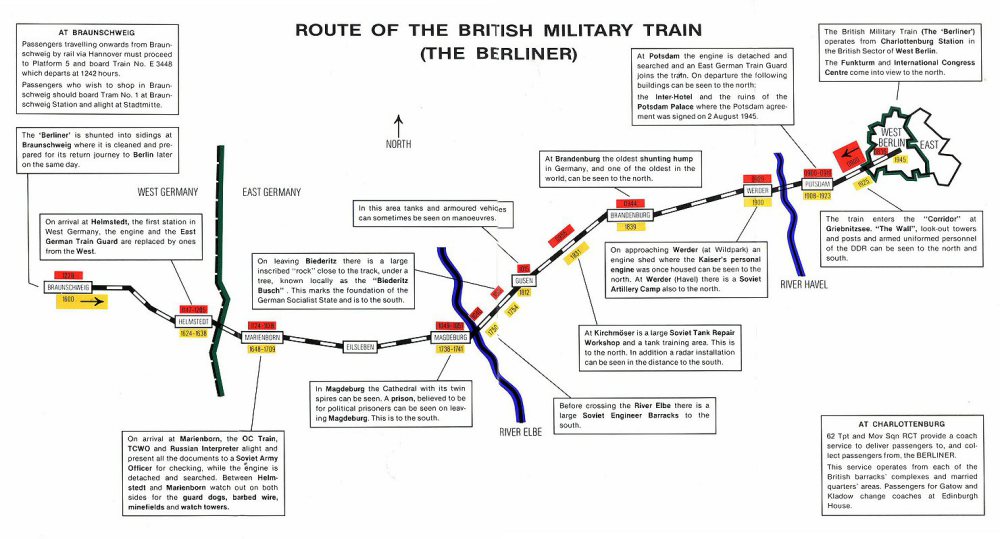 Timetable
Although the exact timings varied over the many years the service was in operation, the timetable information provided below relates to the later years of the service. The long dwell times at Potsdam and Marienborn were necessary for completing passport checks and detaching, searching and re-attaching the locomotive; whereas at Helmstedt the time was needed to change locomotives.  
Berlin Charlottenburg
Potsdam
Werder
Brandenburg
Kirchmöser
Gusen
Biederitz
Magdeburg
Marienborn
Helmstedt
Braunschweig
Arrive
-
09:00
-
-
-
-
-
10:49
11:24
11:47
12:28
Pass 
-
-
09:29
09:44
09:55
10:15
10:33
-
-
-
-
Depart 
08:36
09:19
-
-
-
-
-
10:51
11:38
12:05
-
Arrive
19:45
19:08
-
-
-
-
-
17:38
16:48
16:24
-
Pass
-
-
19:00
18:39
18:31
18:12
17:54
-
-
-
-
Depart 
-
19:23
-
-
-
-
-
17:41
17:09
16:38
16:00
Berlin Charlottenburg
Potsdam
Werder
Brandenburg
Kirchmöser
Gusen
Biederitz
Magdeburg
Marienborn
Helmstedt
Braunschweig